Social Media Marketing Training
Helping you to be social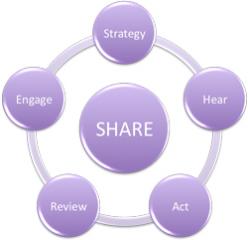 Many people use social media in their personal lives and know the functionality, but are not sure how to apply this to the business and corporate world. Whilst other people do not use social media at all and do not know how to maximise the opportunities around this valuable method of communication and equally are so concerned about the risks that they do not feel they should conduct any social media activity at all.
Win Marketing can work with an organisation – either on a one to one basis or with a group of people, training them to develop the social media marketing strategy and how to implement social media using the Win Marketing SHARE social media marketing model.
Delivered as in-house specialist courses, the workshops can be delivered in a day to help people achieve what they need to learn. Skills can then be practiced and delegates can come back to discuss issues of concern at the next workshop.
Social Media Training and Development
The team of social media marketing specialists help clients to implement their own social media marketing. We can deliver training in the following areas of social media marketing:
How to update profiles, articles, etc
How to analyse and monitor the data and information
How to improve your online presence from the findings
What to say, how often, where to say it
Writing relevant content for blogs
If you would like training in social media marketing then please talk to one of our social media marketing experts on +44 (0) 1509 265890 or contact us.