Associate trainer and brand ambassador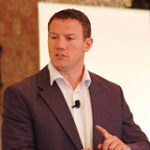 A former professional rugby player, Tim played 19 times for England between 1996 and 2002 and for the British Lions on their successful tour of South Africa in 1997. He was the first player in the English Premiership to score over 1000 points. The only player to win 5 successive Premierships, he also helped kick his Leicester Tigers team to Heineken European Cup Championships in 2001 and 2002.
Tim gained an Honours degree in Anthropology from Durham University. He worked in business training with ICI, was an executive board member of the PRA and Head Coach at Nottingham. He now works as an ambassador for the childrens' charities Sparks, The Wooden Spoon and the Christina Noble Foundation. New to the Win Marketing team, Tim is responsible for engaging elite athletes and providing maximum exposure for clients and helping with their business development, customer retention and performance issues.