Win Marketing at the Rugby World Cup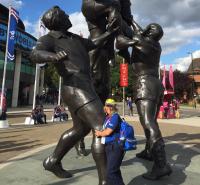 Win Marketing MD Ann Goodwin has recently spent time volunteering at the Rugby World Cup. Lending her marketing expertise, along with other volunteers in 'The Pack' they have been helping to keep everything running smoothly in the RWC media centre.
Ann and the Goodwin Family are dedicated rugby fans, having attended every Rugby World Cup since 2003. Since the 2015 RWC is being hosted in her home nation, Ann was keen to help out. She joined 20,000 people in applying for a volunteer position, and was one of just 6,000 people who were hired.
The event organisers hoped to place volunteers in positions that would utilise their skills and experiences and Ann was no different.  She has been posted to support in the media centre working on marketing communications projects. So during this massive international event, Ann has spent time at Twickenham stadium on match days, monitoring social media, writing press releases and replying to press enquiries. The pack of volunteers in the media centre includes many other senior marketing and PR professionals, providing a great opportunity for networking and sharing best practice and key skills.
All volunteers in The Pack are required to wear heavily branded uniforms. So, in addition to performing their official duties, they are also encouraged to interact with spectators and offer assistance or advice when required.  Ann used her basic Spanish when providing directions to some Argentinean fans who spoke little English and wanted help.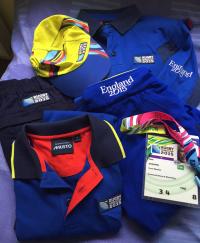 Although disappointed that England has been eliminated, Ann has been thrilled with her time in the Rugby World Cup media centre. She has been able to apply her marketing skills to one of her life's passions for an unforgettable experience and meet some great people who all share her love of rugby and believe in effective marketing communications.